Regular price
Sale price
£40.00 GBP
Unit price
per
Sale
Sold out
Can't decide which flavour to buy? You can try all 9 flavours in the Rainbow Range and save ££s. This offer consists of one of each flavour below:
Smoothees Green (Spinach, Kale, Lemon, Kiwi)
Smoothees Greenlight (Mint, Green Grapes, Ginger, Cucumber)
Smoothees Yellow (Pineapple, Ginger, Lemon)
Smoothees Orange (Mango, Ginger, Carrot, Orange)
Smoothees Red (Orange, Beetroot, Lemon, Kiwi)
Smoothees Pink (Strawberry, Red Grapes, Watermelon, Lemon)
Smoothees Purple (Black Grapes, Blueberries, Lemon)
Smoothees Blue (Lime, Blue Spirulina, Blueberries, Honeydew Melon)
Smoothees Brown (Apple, Pear, Ginger)
We have carefully selected our blend to give you something delicious and rich in nutrient. All smoothees are cold pressed and unpasteurised. 
Your smoothees are juiced fresh on the morning of despatch.
Preserving your smoothees - Your smoothees can be preserved by freezing them. They can be frozen up to 2months. When ready to drink, thaw/defrost in the fridge, and shake the contents before drinking. Once opened, consume within 1 day. Do not refreeze. 
Bottle Care - Bottles should be hand-washed with warm water and are not suitable for the dishwasher.

Our 350ml and 500ml bottles are made of BPA-free PET material, and have a food grade mark at the bottom of the bottle. Our bottles are safe, harmless and made with a thick material for your repeated use. They are super light, shatter-resistant and safe to freeze. Your smoothees bottles are reusable and refillable. Do not throw them away. You can return unwanted bottles for free. 
Enjoy 20% off all refills. Do not throw your bottles away, return them for a refill.
Shipping

Free shipping with orders over £40.00. All orders are delivered within 24 hours of despatch to your home or office. Our courier, DHL, will send a text and email on the morning of delivery with your one-hour timeslot, saving you time to plan your day around your smoothees delivery.
Share
View full details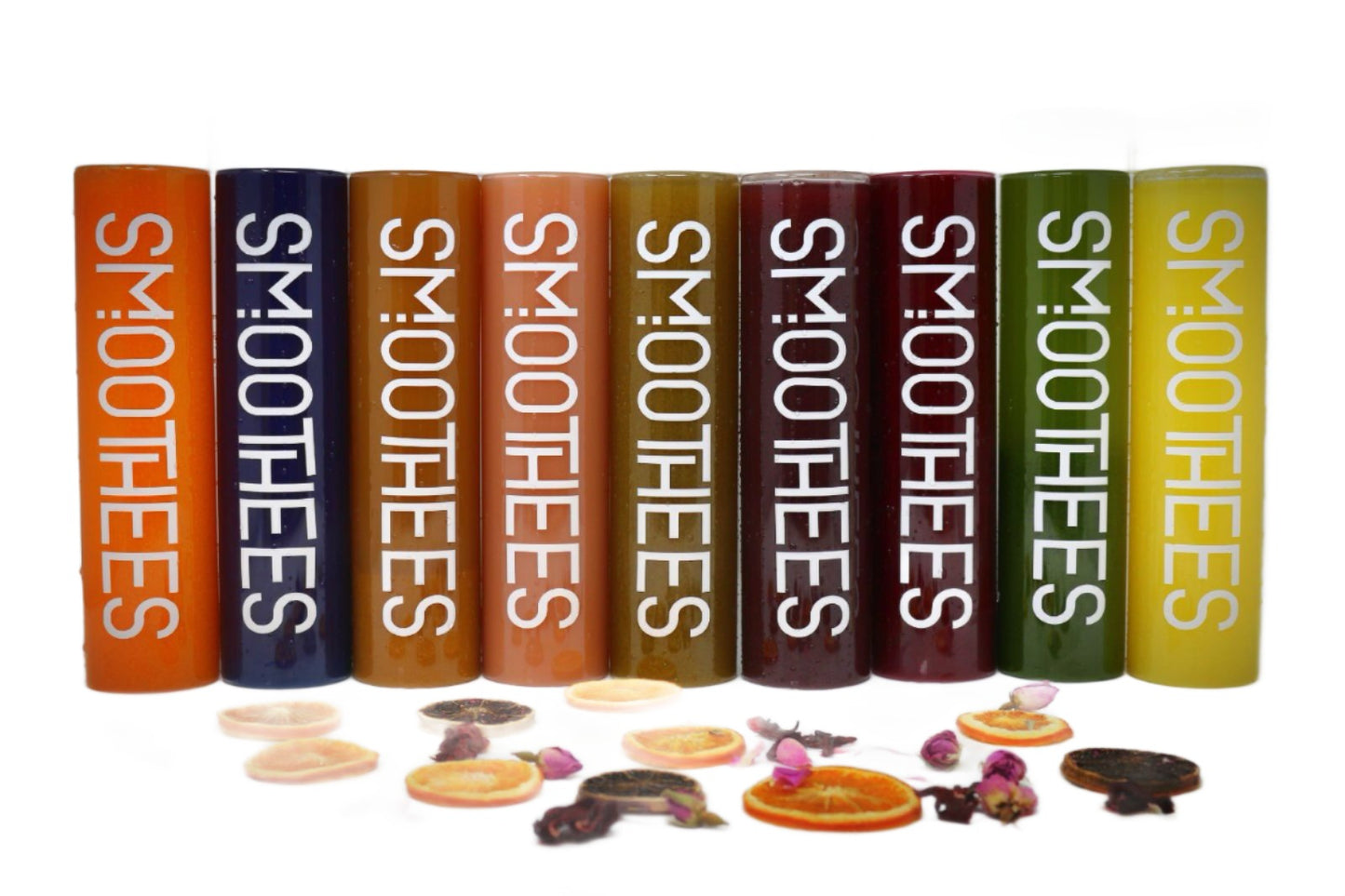 Smoothees for your events
Have you got an event coming up? Give your guests the gift of options. Do not serve boring drinks, spice up your drink options with SMOOTHEES. Our juices are organic and vegan friendly.
We cater to all events - Weddings, Parties, Corporate Meetings, AGMs, Charity Meetings, etc. Give us a call on 07534322879 to talk about your personalised options.
Contact Smoothees